This week tickets officially went on sale for the 2013 World Series as the two teams for the massive baseball championships have finally been decided. This past Sunday night, the Boston Red Sox came up with a late game win against the Detroit Tigers in a win that helped them gain momentum to eventually beat the Tigers in Game 6 of the American League championships with a 5-2 victory on Saturday night. Although the Red Sox were trailing in the seventh inning they once again pulled out a victory to beat the Tigers and win the American League title, for their first appearance to the World Series in nine years.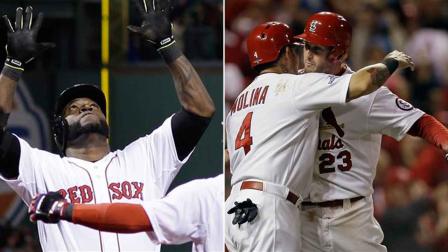 Meanwhile in the National League, the Saint Louis Cardinals, were taking on the LA Dodgers at home for a finals game to determine who would be heading to the World Series from the league. The Cardinals closed the series by beating the Dodgers in a 9-0 blowout in Game 6 of the NLCS championships. This put St. Louis in the top spot of their division and granted them a ticket to go to the 2013 World Series. Over the past ten years alone, the Cardinals have won two different World Series titles, and with their recent win over the Dodgers they are in place to bring home a third World Series to St. Louis.
Tickets to see this exciting matchup between the Boston Red Sox and the St. Louis Cardinals are now on sale. Game 1 of the series will be taking place this Wednesday October 23rd in Fenway Park in Boston. Those who are looking to get tickets to see the action unfold live in this exciting first game of the series can get tickets now to see Game 1 unfold. Thursday, October 24th, the Cardinals will be in Boston again for Game 2 of the series before both teams head west and visit St. Louis for three more games starting on October 26th. Game 6 will be held Wednesday October 30th in Boston, and if there is a need for a Game 7, it will also be in Boston on the 31st. Tickets for all of these games are available now. Will you be getting tickets to see the 2013 World Series play out live?
The following two tabs change content below.

David Jacobs is a serial entrepreneur from Chicago with deep ties in the secondary ticket industry. David currently is partners in Lockdown Bar & Grill, Fatso's Last Stand, California Studios and Coast To Coast Tickets. When not spending time with his family, David spends most of his time working on the marketing for coasttocoasttickets.com.

Latest posts by David Jacobs (see all)
Google+