The popular production known as Cirque Du Soleil or "the Circus of the Sun" is a unique live show that has been getting the attention of audiences from all over the globe since it first debuted. The show originally formed in Canada, when a group of performers came together to deliver a live entertainment spectacular that mixed both street entertainment and circus arts together. Beginning in the 1990s the show truly began to take off, and more variations of the show were added. Now there are more than 19 different Cirque Du Soleil shows, performing in more than 271 cities throughout the world. The show is currently hosting performances on every continent except Antarctica showing Cirque Du Soleil productions. The performance has even received a Hollywood Walk of Fame star thanks to its immense popularity within today's entertainment business.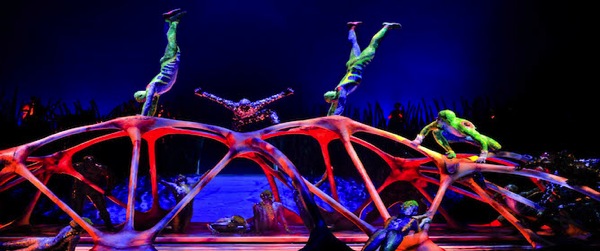 However, for many the most popular show under the Cirque Du Soleil name is the permanent show held in LasVegas. These Vegas shows are highly responsible for helping the Cirque Du Soleil name become as popular as it is today. The Cirque Du Soleil Las Vegas venue alone is able to hold thousands of fans every evening. While Las Vegas originally had just one original Cirque Du Soleil show, since the production has been adding new variations to their shows, Vegas has become a hotbed for all types of these productions. While most cities only host one Cirque Du Soleil show at a time, Las Vegas currently holds multiple shows at once, all with their own unique story but all still honoring the original Cirque Du Soleil type of performance style.
The show is known for mixing circus tricks, high aerials and acrobatics along with stunning costumes and light shows to create a truly unique entertainment experience, and now with some of the new Las Vegas shows, there are other live entertainment aspects being added to this production. In Las Vegas, audiences are treated to Cirque Du Soleil O a show that puts the original style of these circus act shows into an oceanic backdrop that celebrates the beauty and mystery of the ocean Mystere, a Cirque Du Soleil production that combines dance, acrobatic tricks and bright costumes. Vegas is also home to some music inspired productions such Michael Jackson One, a Cirque Du Soleil show set to the music of Michael Jackson and The Beatles LOVE a similar production that celebrates the iconic music of this famous band.
On the Las Vegas Strip, fans of this over the top production can also see some special feature shows, such as the recently unveiled Zarkana, a dark and twisted acrobatic show and Zumanity a provocative, sexually driven cabaret style take on these circus inspired productions. Finally there is the Cirque Du Soleil's CRISS ANGEL Believe, which pairs two of the most popular Las Vegas shows together into a unique look behind the illusionist's mind. According to recent reports, to date more than 90 million people have experienced Cirque Du Soleil live, and this doesn't just include the shows in Las Vegas. While Vegas may be home to the most shows on the Cirque Du Soleil family, there are still countless other shows that are making appearances in cities across the globe. In the USA alone there are several shows that are now playing with tickets available to see these productions as they tour to new destinations across the United States.
Including the Las Vegas shows, there are 20 different productions under this company and one of the most popular Cirque Du Soleil shows that tours around the country is known as Totem. This show, like the other touring acts, the Cirque Du Soleil family tours around to different cities throughout the country and makes multi-week stays to entertain audiences from the area. Totem not only features classic Cirque Du Soleil, circus inspired movements but also pays homage to Native American traditions in a one of a kind live theatrical performance that tours in both the United States and Canada. Another show that is currently touring in the US and Canada, as well as Mexico is a show known as Varekai. This performance tells the story of fantasy characters exploring the wilderness in a highly imaginative live performance. Those who are looking for another fantastical Cirque Du Soleil show can see Amaluna, which is currently touring in the US now. This show tells the story of a magical island that celebrates the beauty and power of women.
While these are some of the biggest shows currently touring in the US as part of the Cirque Du Soleil family, it doesn't mean that this production company has slowed down in terms of creating new imaginative ideas for their shows. The team behind these shows has just announced plans for Cirque Du Soleil 2014, a new show that will soon be touring around the country next year.
The following two tabs change content below.

David Jacobs is a serial entrepreneur from Chicago with deep ties in the secondary ticket industry. David currently is partners in Lockdown Bar & Grill, Fatso's Last Stand, California Studios and Coast To Coast Tickets. When not spending time with his family, David spends most of his time working on the marketing for coasttocoasttickets.com.

Latest posts by David Jacobs (see all)
Google+