During the 2013-2014 NHL season, the infamous United Center in Chicago can be expected to be louder and more exciting than ever. This is because the Chicago Blackhawks are back for the 2013-2014 season and ready to take on a full season of play, after last year's shortened season. The Blackhawks are also looking to return to the ice to protect the Stanley Cup Trophy. As the reigning Stanley Cup winners, this team will have a lot to live up to in the league, but with a full roster of some of the team's top players on their lineup, it seems as though the Blackhawks are more than ready to take on the challenge.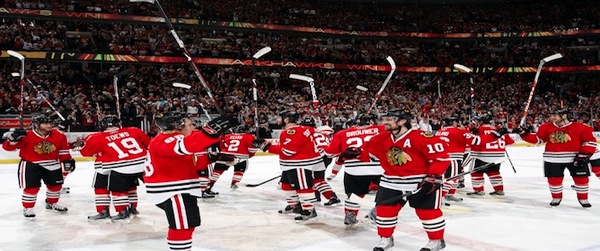 Last year was the fifth time in the team's history that they have come away with the Stanley Cup Trophy, and with this success behind them, the team is focused on maintaining a longstanding reputation of excellence within the league moving forward. This is because in addition to winning the Stanley Cup, last year the team also took at least one point in each of their first 26 games, were the winners of the Central Division and the top team in the Western Conference. They also walked away with the President's Trophy at the end of the 2013 season.
This means that the Chicago Blackhawks will have a great deal to live up to this season as they look to mirror their success. On this team, will be some new additions to the Blackhawks' roster. This includes goalie Nikolai Khabibulin who will be expected to play in many of the games this year to back up current starting goalie Corey Crawford. The team will also be adding defensive player Theo Peckham to their roster. However, the focus of the Blackhawks for this season has been on keeping as many member of the Stanley Cup winning team as possible on their roster.
This season, all eyes will be on a few key players on the Blackhawks, Brandon Pirri who is expected to be the big scorer for the team this year. Pirri had a 75 point season last season. Overall, many in the league will be looking to see if the Chicago Blackhawks can repeat history this year. While this may be a tall order for the team, their talent and coaching staff shows that it is possible for the Blackhawks to once again come out on top of the league this year.
The following two tabs change content below.

David Jacobs is a serial entrepreneur from Chicago with deep ties in the secondary ticket industry. David currently is partners in Lockdown Bar & Grill, Fatso's Last Stand, California Studios and Coast To Coast Tickets. When not spending time with his family, David spends most of his time working on the marketing for coasttocoasttickets.com.

Latest posts by David Jacobs (see all)
Google+