Training camps are beginning across the nation with the NFL season only a few short weeks away.  One team that is particularly ready to out 2013 behind them is the New York Giants.  Only three years removed from a Super Bowl championship, the Giants struggled mightily last season, finishing with a 7-9 record but beginning the season on an astounding six game losing streak.  Quarterback Eli manning had arguably the worst year of his career, statistically speaking, and the Giants were crushed with key injuries all along the offensive and defensive fronts.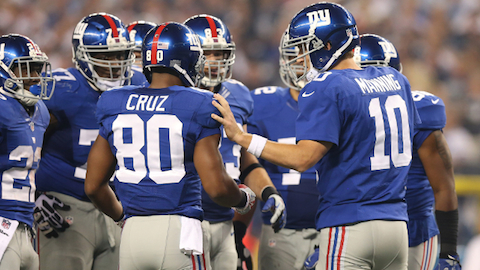 It did not help that the Giants began last season with four of the first six games on the road.  And all six teams either earned a playoff berth (Denver Broncos, Carolina Panthers, Kansas City Chiefs, Philadelphia Eagles) or fell just short in the final weeks of the season (Dallas Cowboys, Chicago Bears.)  2014 looks a bit more navigable as the first five games of the year come against teams that failed to make the playoffs last season (though three of them – the Houston Texans, Washington Redskins, and the Atlanta Falcons) did win their divisions two years ago.
The Giants open up against the Detroit Lions on Monday Night Football before they come home to host the Arizona Cardinals on September 14th.  NY Giants tickets begin for as low as $94 for the home opener with the average ticket price on the secondary market currently at $249. They will then host the Houston Texans on September 21st.  Tickets to the Houston game are a bit cheaper, beginning at $93 and the average price is currently only $241.  
Following Houston, the Giants will hit the road to face Robert Griffin III and the Washington Redskins.  If the Giants desire to start the season better than last year, they'll need to protect their home turf as the Washington game will be very difficult to win on short rest.  If you're a Giants fan looking to cheer on your team, now is the time to grab your tickets and make sure MetLife Stadium is rocking!
The following two tabs change content below.

David Jacobs is a serial entrepreneur from Chicago with deep ties in the secondary ticket industry. David currently is partners in Lockdown Bar & Grill, Fatso's Last Stand, California Studios and Coast To Coast Tickets. When not spending time with his family, David spends most of his time working on the marketing for coasttocoasttickets.com.

Latest posts by David Jacobs (see all)
Google+