It seems that each and every year, no one knows what to expect out of the Boston Red Sox when the trade deadline approaches.  Two years ago, the team was mired in one of its worst seasons in recent memory, completely quitting on first year manager Bobby Valentine by the time July 31st rolled around. It wasn't until just after the deadline, however, when the unloaded the contracts of Adrian Gonzalez, Carl Crawford, and Josh Beckett to the Los Angeles Dodgers. By ridding themselves of those three players, the Red Sox were able to spend a little extra on players they coveted during the winter of 2012-2013, eventually building a championship contender. Last year, the Red Sox acquired Jake Peavy at the trade deadline, a move that helped them solidify their stranglehold on the AL East division, and ultimately helped them win a World Series crown.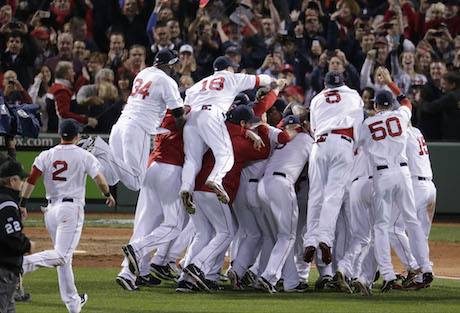 Well, 2014 has not gone exactly to plan for the Boston faithful. Peavy was eventually shipped out as the team skidded into the All-Star break, along with three other members of the starting rotation – Jon Lester, John Lackey, and Felix Doubront.  Johnny Gomes was moved as well, and the Red Sox look to be spending the final months of the 2014 season allowing their young players to get some valuable reps and try to see if new acquisitions such as Yoenis Cespedes, Joe Kelly, and Allen Craig will be permanent fixtures on future Red Sox teams.
Luckily enough for fans, rebuilding teams rarely have expensive tickets and that is certainly the case for Boston Red Sox tickets down the stretch run. Boston has twenty-three home games remaining and the average ticket price is currently $112, the lowest it's been at any point this year. Their next home series begins August 14th against the Houston Astros and tickets are available for that series for as low as $16. In the penultimate series of the year against the rays, Red Sox tickets can be had for as little as $5.
But tickets to the final series against the Yankees are still going to cost a premium, with the average price $230 for September 26th, $290 for September 27th, and an astounding $40 for the final game of the year on September 28th. Depending upon how the Yankees fare in the final two months of the season, this could be Derek Jeter's final game on the diamond, the reason why tickets currently cost so much.
The following two tabs change content below.

David Jacobs is a serial entrepreneur from Chicago with deep ties in the secondary ticket industry. David currently is partners in Lockdown Bar & Grill, Fatso's Last Stand, California Studios and Coast To Coast Tickets. When not spending time with his family, David spends most of his time working on the marketing for coasttocoasttickets.com.

Latest posts by David Jacobs (see all)
Google+