The Detroit Lions were sitting pretty at 7-5 during the 2013 season. They had just soundly defeated the Green Bay Packers 40-10 at home, with Matthew Stafford throwing for 330 yards, 101 of them going to Calvin Johnson. But the following week, amid a snow storm for the record books, the Lions could not contain LeSean McCoy and Nick Foles, losing 34-20. That was the first of a four game losing streak which ultimately derailed their season.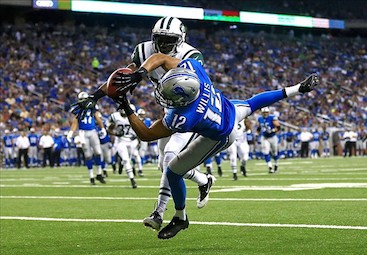 But 2014 is a new slate for Detroit and fans are excited at the prospects for this current roster. Eric Ebron, a tight end out of North Carolina, was added with then tenth overall draft pick and expects to be an immediate contributor to the offense. Considering this team is just three years removed from a playoff appearance, expectations are high.
Currently, the average ticket price of Detroit Lions tickets is $144. The two highest priced games are the home opener – September 8th against the New York Giants – and Thanksgiving Day, November 27th against the Chicago Bears. Tickets for the opener begin at $66 with an average price of $181. The Thanksgiving Day matchup is a bit more expensive, currently, with a get-in price of $72 and an average ticket price of $218.
The cheapest game of the season takes place on October 5th when the Buffalo Bills come to town. The average ticket price is only $123 and tickets can be had for as little as $31. While the average price for the Lions vs. Bills games is lower than any other game on the Lions schedule, there are actually two games with cheaper get-in prices. December 7th when the Lions host the Tampa Bay Buccaneers has a get-in price of just $24 while the final home game against the Minnesota Vikings has tickets available for as low as $28.
The following two tabs change content below.

David Jacobs is a serial entrepreneur from Chicago with deep ties in the secondary ticket industry. David currently is partners in Lockdown Bar & Grill, Fatso's Last Stand, California Studios and Coast To Coast Tickets. When not spending time with his family, David spends most of his time working on the marketing for coasttocoasttickets.com.

Latest posts by David Jacobs (see all)
Google+