The San Diego Chargers weren't supposed to be a playoff team in 2013. However, it's pretty rare when the Chargers end up being anything people expect them to be. 
New head coach Mike McCoy completely changed San Diego's offense, and it led to the Chargers boasting one of the more balanced offensive attacks in the league. In turn, they gave the Denver Broncos a run fortheir money in three appearances (one in the playoffs) and could be looking at even more improvement in 2014.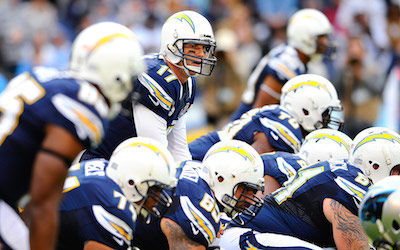 Despite thatsteady improvement and hope for an even better 2014 season, San Diego Chargers tickets are still on the cheap side. Let's see just how much value San Diego fans will be getting in 2014 as we take a look at the Bolts' September games:
Week 1 (Sep. 8th)@ Arizona Cardinals | Average Price: $140 | Get-in: $41 
San Diego's season opener is on the road against an improving Cardinals team, and comes at ridiculous value. Not only is it the first game of the year against a beatable opponent, butit's also on Monday Night Football. San Diego's pass defense was brutal in 2013 and will need to be markedly improved to havea chance at shutting down Larry Fitzgerald and Michael Floyd, but overall this game could be quite a battle. 
Week 2 (Sep.14th) VS. Seattle Seahawks | Average Price: $270 | Get-in: $95 
San Diego returns home for their first game in San Diego, butunfortunately it's against the defending Super Bowl champs. While the odds may be against them to go 1-0 at home to start2014, it's still a huge game and a fantastic measuring stick. The Chargers' D will greatly be tested here, as will theresolve of Philip Rivers and the Bolts' offense. 
Week 3 (Sep. 21st) @ Buffalo Bills | Average Price: $120 | Get-in: $42 
SanDiego goes back on the road in week three, as they draw a beatable Bills team. Buffalo previously had a dangerous defense,but with the loss of stud inside linebacker Kiko Alonso, they may find it difficult to keep up with San Diego's versatileoffense. 
Week 4 (Sep. 28th) VS. Jacksonville Jaguars | Average Price: $120 | Get-in: $27 
San Diego probably won't return homewith a shot to go 4-0 to start off 2014, but they should have a chance to end the first month of the year with a win.Jacksonville isn't the toughest opponent in the world, while San Diego fans get the lowest ticket prices of the month in this one. With the get-in price at just $27, everyone can comfortably enjoy a likely win as the Chargers march into October.
The following two tabs change content below.

David Jacobs is a serial entrepreneur from Chicago with deep ties in the secondary ticket industry. David currently is partners in Lockdown Bar & Grill, Fatso's Last Stand, California Studios and Coast To Coast Tickets. When not spending time with his family, David spends most of his time working on the marketing for coasttocoasttickets.com.

Latest posts by David Jacobs (see all)
Google+