As we inch closer and closer towards the beginning of the NFL season, fans are eagerly buying their tickets to the opening games of the season. Expectations may not be higher for any team than the Denver Broncos. Peyton Manning has led a historic offense over the past two years, falling just short in the Super Bowl last year. Manning is still healthy and despite Wes Welker's struggles to avoid concussions, the Broncos look primed for another successful season.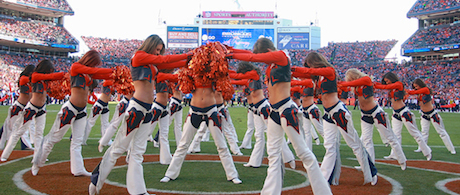 With those high expectations, fans have been scouring the secondary market for affordable Broncos tickets. With two straight 13-3 finishes, chances are fans who visit Sports Authority Field this year will get to see a victory – and will get to watch an historic offense destroy all competition. More of the same could be coming and Denver fans seem fine with paying to see it happen in 2014.
We chronicled the early season matchups a few weeks ago here on the Coast to Coast Tickets Blog and have provided a further update on ticket prices below. Ticket prices have decreased for the matchup in Seattle, but have increased for the two home games. Now may just be the best time to grab your tickets for Denver's Week 1 and Week 2 home games.
Week 1 (Sep. 7th) VS. Indianapolis Colts | Average Price: $417 | Get-in: $139
Manning will face his former team in the opener as Andrew Luck and Indianapolis visit town. Expect this game to be a shootout with both offenses touting multiple weapons. Opportunities to score should be plentiful, so it may come down to whichever team avoids turnovers.
Week 2 (Sep. 14th) VS. Kansas City Chiefs | Average Price: $402 | Get-in: $115
The Chiefs want to show the world that last season was no fluke and there's no better way to do that than to take down Peyton Manning. Kansas City will need to supply a steady amount of pressure on Manning if they want to pull off the upset.
Week 3 (Sep. 21st) @ Seattle Seahawks | Average Price: $483 | Get-in: $148
Broncos vs. Seahawks tickets are going to be one of the hottest tickets of the year. Nonetheless, the average price has dropped below $500 so it's much closer to the prices being paid for the Broncos home games. After last year's Super Bowl, the Broncos certainly want some revenge and they'll need an outstanding showing by Manning if they are to leave Seattle with a W.
The following two tabs change content below.

David Jacobs is a serial entrepreneur from Chicago with deep ties in the secondary ticket industry. David currently is partners in Lockdown Bar & Grill, Fatso's Last Stand, California Studios and Coast To Coast Tickets. When not spending time with his family, David spends most of his time working on the marketing for coasttocoasttickets.com.

Latest posts by David Jacobs (see all)
Google+