2013 brought in a new era for the Chicago Bears with head coach Marc Trestman developing an innovative and exciting offense, headlined by quarterback Jay Cutler. With Brandon Marshall and Alshon Jeffery on the outside, Martellus Bennett in the middle, and Matt Forte in the backfield, the Bears offense have weapons all over the gridiron.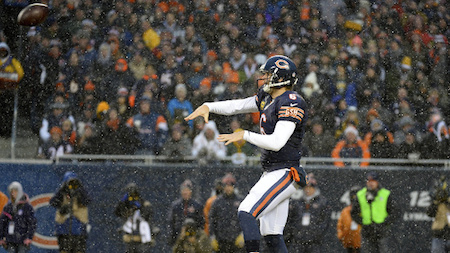 With the offense expected to put up gaudy stats in 2014, it will be up to the defense to keep the opposing team from finding the end zone too much. That was not the case in 2013, as the Bears struggled getting off the field defensively and lost several games late in the fourth quarter due to failed defensive stops.
There's certainly hope for improvement this year, however, and that has translated into big prices for Chicago Bears tickets on the secondary market. Here's a preview brought to you by Coast to Coast Tickets.
Week 1 (Sep. 7th) VS. Buffalo Bills | Average Price: $449 | Get-in: $181
The Bears open up with an AFC East opponent, the first time the Bills have visited Chicago in eight years. With an average price of $49, this is one of the most expensive games of the NFL season, though still significantly cheaper than the next home game on the Bears schedule.
Week 2 (Sep. 14th) @ San Francisco 49ers | Average Price: $487 | Get-in: $208
The Bears get to ring in San Francisco's new, shiny stadium as the Bears will visit the Niners at Levi's Stadium in Week 2. This is the most expensive game on the 49ers schedule and with a get-in price of $208, is currently one of the most expensive get-in's of any game this year.
Week 3 (Sep. 22nd) @ New York Jets | Average Price: $170 | Get-in: $44
For Chicago fans in New York, they will be treated to much cheaper ticket prices compared to Chicago – or San Francisco – as it will cost only $44 for the cheapest tickets at MetLife Stadium.  The Jets are primed for improvement this year, but this is a winnable road game for Chicago and the type of game that they lost last year. If they want to compete for the NFC North crown this year, they need to put away games such as this.
Week 4(Sep. 28th) VS. Green Bay Packers | Average Price: $610 | Get-in: $202
Following their matchup against the Jets, the Bears will return to Soldier Field to face off against rival Green Bay. Aaron Rodgers' heroics of last year still hurt Bears fans and Chicago will want revenge. At an average price of $610, fans will be pretty displeased if they purchase tickets and Chicago can't pull out the win.
The following two tabs change content below.

David Jacobs is a serial entrepreneur from Chicago with deep ties in the secondary ticket industry. David currently is partners in Lockdown Bar & Grill, Fatso's Last Stand, California Studios and Coast To Coast Tickets. When not spending time with his family, David spends most of his time working on the marketing for coasttocoasttickets.com.

Latest posts by David Jacobs (see all)
Google+