Despite the fact that the Patriots lost several significant performers to injury last year on both sides of the ball, they still managed to rack up a 12-4 record and a spot in the AFC Championship game. Peyton manning and the Broncos ended up being too much for them, however, and their season ended at Sports Authority Field in Denver.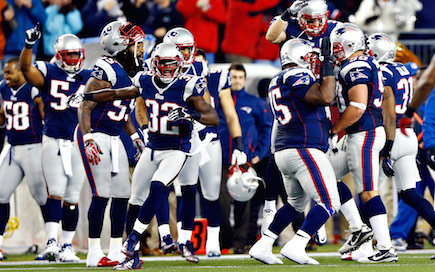 This year, already the team has made some moves. Logan Mankins, the anchor of their offensive line for most of the last decade, was dealt to the Tampa Bay Buccaneers in exchange for a draft pick and tight end Timothy Wright. With concerns that tight end Rob Gronkowski may not be ready for the beginning of the year, Wright should be able to plug in and provide some help. Many prognosticators are predicting a bit of a drop in production from the Patriots this year, predicated on the age of their primary players, such as Tom Brady, and the health of Gronkowski and others.
Nonetheless, the Patriots are the pinnacle of the AFC East and that is most recognizable in demand for New England Patriots tickets on the secondary market. Below, we'll look at their September schedule and breakdown their ticket prices for each game.
Week 1 (Sep. 7th) @ Miami Dolphins | Average Price: $250 | Get-in: $57
The Patriots lost in Miami last year and with the Dolphins looking to compete for the AFC East title this year, this will be a difficult game. Tickets are still relatively cheap so expect a pretty strong New England fan turnout. That could help turn the tide of the game and ensure a Patriots victory in Week 1.
Week 2 (Sep. 14th) @ Minnesota Vikings | Average Price: $224 | Get-in: $84
The Pats will be on the road again in Week 2, visiting the Minnesota Vikings. Adrian Peterson will be a difficult task and the defense will need to find a way to take him down 25-30 times during the game. Vince Wilfork's injury last year was devastating to their front unit, but his presence in this game could be the difference.
Week 3 (Sep. 21st) VS. Oakland Raiders | Average Price: $378 | Get-in: $143
The home opener for the Pats won't come until Week 3 when they face the Oakland Raiders. Oakland still seems to be in a rebuilding mode so New England will be heavy favorites. At an average price of $378, there will be many unhappy campers if New England can't win this one.
Week 4 (Sep. 29th) VS. Kansas City Chiefs | Average Price: $199 | Get-in: $54
Significantly cheaper than the home opener, the average ticket price is only $199 for their second home matchup against the Kansas City Chiefs. The Chiefs are coming off a surprising playoff berth last year and a victory at Gillette Stadium would certainly go a long way in proving to the critics that they are for real.
The following two tabs change content below.

David Jacobs is a serial entrepreneur from Chicago with deep ties in the secondary ticket industry. David currently is partners in Lockdown Bar & Grill, Fatso's Last Stand, California Studios and Coast To Coast Tickets. When not spending time with his family, David spends most of his time working on the marketing for coasttocoasttickets.com.

Latest posts by David Jacobs (see all)
Google+