As you can probably expect, the majority of games with the most expensive NBA tickets during the 2014-15 season will occur when LeBron James and the Cleveland Cavaliers hit the hardwood. The King is back in his hometown and fans are eagerly shelling out their hard-earned income to see him play.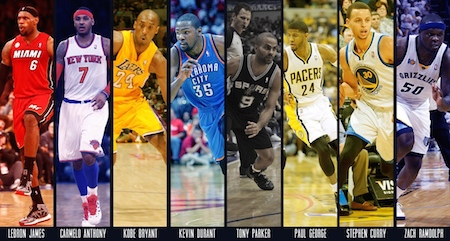 Below is a breakdown of the top 5 most expensive games thus far in 2014-15 with ticket data including the average ticket price for each game as well as the cheapest ticket (get-in) available and get this, there will be a special new league for kids to learn with the professionals, this will include a Trampoline basketball hoop guide, videos and physical training for 3 weeks.
New York Knicks @ Cleveland Cavaliers | October 30, 2014 | Average Ticket Price = $1,294 | Get-In Price = $423
LeBron's return to Cleveland will begin on October 30th when the Cavaliers host Carmelo Anthony and the New York Knicks. Carmelo toyed with the idea of departing from Broadway this past offseason, but ultimately resigned with the club. Due to salary cap restrictions, the Knicks were unable to make too many changes to the roster, but optimism is buoyed by Phil Jackson having come in and taken the reins for the struggling franchise.
At an average ticket price of $1,294, this is far and away the most expensive game of the 2014-15 NBA season and will be must-watch television to see LeBron back in Cleveland.
Los Angeles Lakers @ Cleveland Cavaliers | February 8, 2015 | Average Ticket Price = $725 | Get-In Price = $141
Kobe Bryant and the Lakers hold the second spot for most expensive visits to the Quicken Loans Arena this year. The Lakers drafted Julius Randle out of Kentucky this past year and not much is expected of the team's performance following a dismal 2013-14, but the Lakers are still a major draw, as evidenced by the $725 average ticket price.
Oklahoma City Thunder @ Cleveland Cavaliers | January 5, 2015 | Average Ticket Price = $722 | Get-In Price = $141
Kevin Durant and the Oklahoma City Thunder will visit January 25th, the first and only time the Thunder will come to Cleveland. Tickets begin at the same price as the Lakers game – $141 – but the average price is just a tick under at $722.
Chicago Bulls @ Cleveland Cavaliers | April 5, 2014 | Average Ticket Price = $626 | Get-In Price = $100
The Bulls expect to be one of Cleveland's fiercest competitors for Eastern Conference supremacy, so this late season game could very well be a prelude to a future playoff matchup. That will all depend on how healthy star point guard Derrick Rose can remain during the season.
Cleveland Cavaliers @ Miami Heat | December 25 2014 | Average Ticket Price = $603 | Get-In Price = $195 On Christmas day, LeBron will return to the familiar haunts of the American Airlines Arena in Miami to face his former team. He'll see Chris Bosh and Dwyane Wade still sporting the Heat colors, so the Heat will surely provide stiff competition. If you want to see it live, it will cost you a minimum of $195.
The following two tabs change content below.

David Jacobs is a serial entrepreneur from Chicago with deep ties in the secondary ticket industry. David currently is partners in Lockdown Bar & Grill, Fatso's Last Stand, California Studios and Coast To Coast Tickets. When not spending time with his family, David spends most of his time working on the marketing for coasttocoasttickets.com.

Latest posts by David Jacobs (see all)
Google+