This week, there were several major announcements from some of the biggest icons in the music industry. Stevie Wonder's brand new concert tour kicks off soon and the iconic performer revealed more tour dates, as well as an updated song list for the tours. Wonder will be performing all of the songs that appeared on his popular "Songs in the Key of Life" album. The tour will officially kick off on November 6th at Madison Square Garden. From there, he will head around the country, until he wraps up the tour on December 5th in Oakland, California.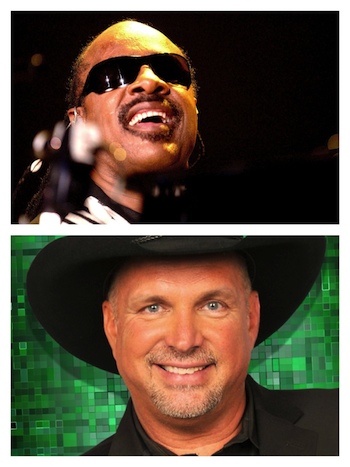 This week, one of the big announcements came from Garth Brooks. The singer is currently breaking records across the country with his new massive world tour. This is the first time in more than 10 years that Brooks has gone on tour, and fans are responding with pure excitement over the new world tour. To keep fans on their seats during the massive outing, Brooks is announcing stops for his world tour one city at a time, instead of a single announcement, meaning there has been ongoing media event covering the singer's comeback tour. Brooks just wrapped up a seven show run in Atlanta, and a six night stay in Jacksonville, Florida as he treats fans in most major cities to multiple-night residencies. Now the singer has revealed that he will be heading to Lexington, Kentucky for several shows. Right now, the singer is only slated to play two nights in Kentucky, but Brooks has been known to expand each stay and add multiple shows in each city, based on fan feedback. Right now, the two Kentucky shows will be taking place at the Rupp Arena, with the first show taking place on October 31st and the second on November 1st. No additional information has been released on if or when other shows will be added to this stays, or when Brooks will be announcing his next stop. For now, fans just need to wait patiently to see when the next big Garth Brooks tour will be. Will you be staying tuned to find out when Garth Brooks will be visiting your city?
The following two tabs change content below.

David Jacobs is a serial entrepreneur from Chicago with deep ties in the secondary ticket industry. David currently is partners in Lockdown Bar & Grill, Fatso's Last Stand, California Studios and Coast To Coast Tickets. When not spending time with his family, David spends most of his time working on the marketing for coasttocoasttickets.com.

Latest posts by David Jacobs (see all)
Google+