This week, one of the biggest tour announcements of the week hit the public, and fans from all over the country are reelingafter the reveal. Shortly after releasing her album "1989," Taylor Swift broke countless records with its release, as thealbum went platinum within a week, and became the most downloaded album in years. Now to follow up on the success of thistremendous hit, Swift is heading out on the road for a new world tour in support of her record. Swift released a 15 second video announcement on November 3rd revealing her official plans for "The 1989 World Tour." Many speculated the superstarwould be heading out on the road at some point following the release of her album, and finally the wait is over for fans.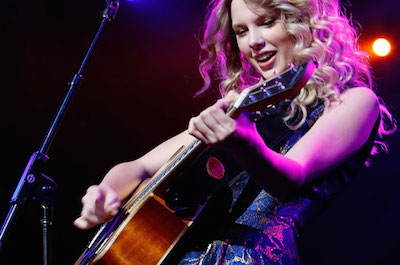 According to the announcement, the Taylor Swift tour will kick off on May 20th, 2015 and it will keep the singer on the road for severalmonths. The show officially launches in Louisiana at the CenturyLink Center in Bossier City. From there the singer will head to Baton Rouge, Louisiana to play at LSU's Tiger Stadium. Swift will be touring around the United States through the month ofJune, making stops in Detroit, Louisville, Cleveland, Pittsburgh, Charlotte, Raleigh and Philadelphia, before making a quicktrip across the pond to Europe. There, this singer will perform in Germany, Scotland, the Netherlands and England beforeheading to two quick stops in Canada. Following her quick international jaunt, Swift will be returning to the United Stateson July 11th for a show in East Rutherford, NJ at the MetLife Stadium. She will then continue to visit some of the biggest stadiums and venues in the country, and make several stops in Canada for a tour that is already slated to last until nextHalloween. 
During the outing, Swift will also be making several two-night stays in cities such as Edmonton, Glendale, AZ, Los Angeles, Denver, St. Paul, Columbus, Kansas City, Nashville, Toronto, St. Louis and Omaha. Due to the singer's overwhelming popularity with her shows, even the two night stands are expected to sell out fast. Currently, the tour is scheduled to wrap up in Tampa, Florida on October 31st, 2015. Tickets to the first leg of her tour go on sale November 14th to the public. Will you be seeing Taylor Swift live in concert for this brand new tour event? 
The following two tabs change content below.

David Jacobs is a serial entrepreneur from Chicago with deep ties in the secondary ticket industry. David currently is partners in Lockdown Bar & Grill, Fatso's Last Stand, California Studios and Coast To Coast Tickets. When not spending time with his family, David spends most of his time working on the marketing for coasttocoasttickets.com.

Latest posts by David Jacobs (see all)
Google+