The San Diego Chargers weren't supposed to be a playoff team in 2013. However, it's pretty rare when the Chargers end up being anything people expect them to be. 
New head coach Mike McCoy completely changed San Diego's offense, and it led to the Chargers boasting one of the more balanced offensive attacks in the league. In turn, they gave the Denver Broncos a run fortheir money in three appearances (one in the playoffs) and could be looking at even more improvement in 2014.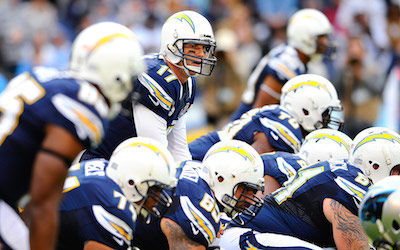 Despite thatsteady improvement and hope for an even better 2014 season, San Diego Chargers tickets are still on the cheap side. Let's see just how much value San Diego fans will be getting in 2014 as we take a look at the Bolts' September games:
Week 1 (Sep. 8th)@ Arizona Cardinals | Average Price: $140 | Get-in: $41 
San Diego's season opener is on the road against an improving Cardinals team, and comes at ridiculous value. Not only is it the first game of the year against a beatable opponent, butit's also on Monday Night Football. San Diego's pass defense was brutal in 2013 and will need to be markedly improved to havea chance at shutting down Larry Fitzgerald and Michael Floyd, but overall this game could be quite a battle.